Dri-fit Superhero Captain America Compression Shirt Short Sleeve
$36.00
Super Hero Series Compression T Shirt For Unisex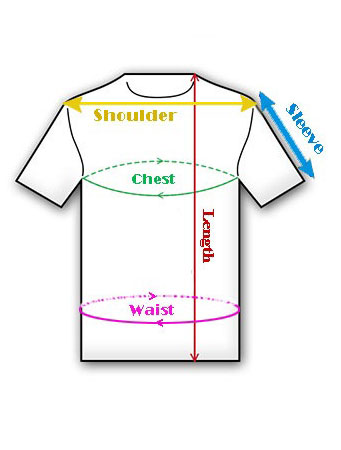 Measurement Tip 
Chest/Bust:
Take measurement up under the arms(1″ below armholes) and around chest
Waist:
Measure from Waist circumference (distance around the waist) at the narrowest point.
Shoulder:
With back of garment facing you, measure straight across from shoulder point to shoulder point at seam line (or natural fold) of shoulder.
Sleeve Length:
Measure from the top of armhole seam, down outside edge/fold to the bottom of the sleeve; Include cuff.
Length:High Point Shoulder (HPS) Back Length:
Measure from the back high point of shoulder seam (or from the natural shoulder fold) straight down to the bottom of garment, keeping the tape measure parallel to center back.
| Size | Chest(CM/INCH) | Length(CM/INCH) | Shoulder(CM/INCH) | Sleeve(CM/INCH) |
| --- | --- | --- | --- | --- |
| S | 83~90CM/32.7~35.4" | 60CM/23.6" | 39CM/15.4" | 16CM/6.3" |
| ,M | 86~96CM/33.8~37.8" | 61CM/24" | 40CM/15.7" | 17CM/6.7" |
| L | 89~105CM/35~41.3" | 62CM/24.4" | 41CM/16.1" | 18CM/7.1" |
| XL | 93~112CM/36.6~44.1" | 64CM/25.2" | 43CM/16.9" | 19CM/7.5" |
| 2XL | 96~118CM/37.8~46.5 | 66CM/26" | 45CM/17.7" | 20CM/7.9" |
| 3XL | 100~124CM/39.4~48.8" | 68CM/26.8" | 47CM/18.5" | 21CM/8.3" |
| 4XL | 104~130CM/40.9~51.2" | 70CM/27.6" | 49CM/19.3" | 22CM/8.7" |
>
Captain America Dri-Fit Shirt Short Sleeve Super Hero Tee Inspired by Avengers Infinity War 2018, Whether your thing is running, gym or something else, you may not be able to become a superhero, but you can certainly feel like one after you're finished wearing this unique  Short Sleeve Super Hero compression shirt.
Turn up your workout and go HERO MODE with our all-new limited edition 2018 Heroes Collection! Pick from a wide selection of your favorite Marvel and DC heroes and start repping your favorite hero both inside and out of the gym.
These high-quality compression workout shirts were designed with a special blend of lycra, polyester, and spandex for a second-skin fit that hugs your muscles to optimize performance.
With proprietary moisture-wicking technology that keeps you cool and dry, you can focus on what matters in training and in life without having to worry about excessive sweating.
Each shirt has been professionally 3D-printed so that colors don't fade and shirts don't shrink, so you can rock the hero look time and time again.
Go longer, go harder, go faster with premium printed superhero-themed workout gear from PKAWAY®.
Perfect for all body types
Moisture-wicking
Maintains body temperature on hot or cool days
Ideal for bodybuilding, soccer, running, cycling, or CrossFit
Special blend of spandex and polyester for enhanced elasticity
Compare