Superhero Batman Long Sleeve Compression Shirt For Gym
$36.00
Super Hero Long Sleeve Compression Shirt For Unisex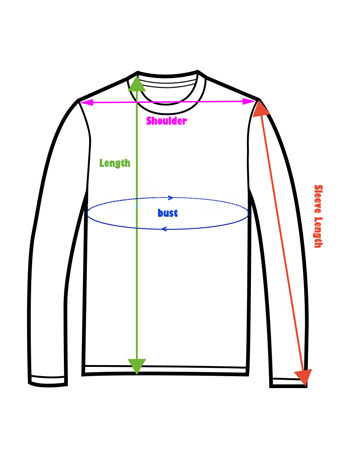 Measurement Tip 
Chest/Bust:
Take measurement up under the arms(1″ below armholes) and around chest
Waist:
Measure from Waist circumference (distance around the waist) at the narrowest point.
Shoulder:
With back of garment facing you, measure straight across from shoulder point to shoulder point at seam line (or natural fold) of shoulder.
Sleeve Length:
Measure from the top of armhole seam, down outside edge/fold to the bottom of the sleeve; Include cuff.
Length:High Point Shoulder (HPS) Back Length:
Measure from the back high point of shoulder seam (or from the natural shoulder fold) straight down to the bottom of garment, keeping the tape measure parallel to center back.
| Size | Bust(CM/INCH) | Length(CM/INCH) | Shoulder(CM/INCH) | Sleeve (CM/INCH) |
| --- | --- | --- | --- | --- |
| S | 83~90CM/32.7~35.4" | 60CM/23.6" | 39CM/15.4" | 58CM/22.8" |
| M | 96~96CM/33.8~37.8" | 61CM/24" | 40CM/15.7" | 60CM/23.6" |
| L | 89~105CM/33.8~37.8" | 62CM/24.4" | 41CM/16.1" | 62CM/24.4" |
| XL | 93~12CM/36.6~44.1" | 64CM/25.2" | 43CM/16.9" | 63CM/24.8" |
| 2XL | 96~118CM/37.8~46.5" | 66CM/26" | 45CM/17.7" | 64CM/25.2" |
| 3XL | 100~124CM/39.4~48.8" | 68CM/27.6" | 47CM/18.5" | 65CM/25.6" |
| 4XL | 104~130CM/40.9~51.2" | 70CM/27.6 | 49CM/19.3" | 66CM/26" |
>
PKAWAY® Batman Compression Shirt Long Sleeve Super hero Top has been designed to provide support and stability throughout your shoulders, back and stomach. Get the most out of your performance with this Mens PKAWAY® Base Core Long Sleeve Base Layer which has been crafted with Optivent technology which ensures sublime breathability, whilst the inner rubberised grips to waist ensures a secure fit .
The compression encourages maximum blood flow to the heart to keep you performing at your peak for longer. The PKAWAY® men's compression long sleeve top also features flat-lock stitching. With around 80% of athletic power generated from the torso and the "Core" of your body's power system, protecting those critical muscles and ligaments is crucial. Rowers, Cyclists, Rugby players and anyone who's upper body is the key to their sport, can benefit from the use of a Compression Top such as we have here.
Slim Fit/Dri-Fit Compression Shirt
Support for muscles aids with fatigue when training
Hide them under your regular clothes or show them off
Maintains an ideal body temperature by regulating heat and airflow
Super elastic to aid in maximum mobility
Wicks moisture away to keep you dry during a workout (Quick-Dry)
Compression Base Layers are proven to aid sports performance, recovery and core temperature control whatever the weather conditions. PKAWAY® has one of the most comprehensive ranges of Sports Compression Gym tops around. Perfect for all outdoor activities from running to cycling , rugby and football .
Compare