Punisher Compression Shirt Short Sleeve Skull Graphic Tee
$30.00
Super Hero Series Compression T Shirt For Unisex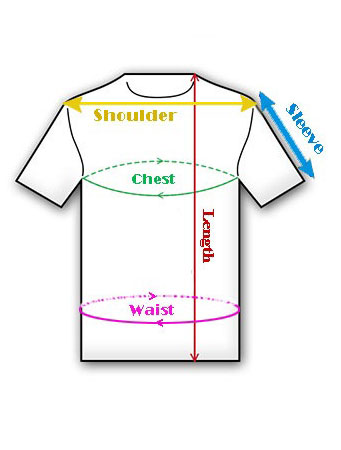 Measurement Tip 
Chest/Bust:
Take measurement up under the arms(1″ below armholes) and around chest
Waist:
Measure from Waist circumference (distance around the waist) at the narrowest point.
Shoulder:
With back of garment facing you, measure straight across from shoulder point to shoulder point at seam line (or natural fold) of shoulder.
Sleeve Length:
Measure from the top of armhole seam, down outside edge/fold to the bottom of the sleeve; Include cuff.
Length:High Point Shoulder (HPS) Back Length:
Measure from the back high point of shoulder seam (or from the natural shoulder fold) straight down to the bottom of garment, keeping the tape measure parallel to center back.
| Size | Chest(CM/INCH) | Length(CM/INCH) | Shoulder(CM/INCH) | Sleeve(CM/INCH) |
| --- | --- | --- | --- | --- |
| S | 83~90CM/32.7~35.4" | 60CM/23.6" | 39CM/15.4" | 16CM/6.3" |
| ,M | 86~96CM/33.8~37.8" | 61CM/24" | 40CM/15.7" | 17CM/6.7" |
| L | 89~105CM/35~41.3" | 62CM/24.4" | 41CM/16.1" | 18CM/7.1" |
| XL | 93~112CM/36.6~44.1" | 64CM/25.2" | 43CM/16.9" | 19CM/7.5" |
| 2XL | 96~118CM/37.8~46.5 | 66CM/26" | 45CM/17.7" | 20CM/7.9" |
| 3XL | 100~124CM/39.4~48.8" | 68CM/26.8" | 47CM/18.5" | 21CM/8.3" |
| 4XL | 104~130CM/40.9~51.2" | 70CM/27.6" | 49CM/19.3" | 22CM/8.7" |
>
The Punisher (Francis "Frank" Castle, born Castiglione) is a fictional character appearing in American comic books published by Marvel Comics. Born in New York to parents of Italian ancestory, Francis Castiglione a.k.a. PUNISHER is a former U.S. Marine Captain turned professional vigilante. In his vigilante endeavors, Castle has crossed paths with several costumed crime fighters, most notably Spider-Man and Daredevil. Punisher has been rated as one of the most dangerous criminals alive.
To Be Your own hero with Punisher Skull Costume,PKAWAY® Compression Top benefits:
Slim Fit,Quick dry superhero powered Short Sleeve punisher compression shirt
These high-quality compression workout shirts were designed with a special blend of lycra, polyester, and spandex for a second-skin fit that hugs your muscles to optimize performance.
With proprietary moisture-wicking technology that keeps you cool and dry, you can focus on what matters in training and in life without having to worry about excessive sweating.
What Does the Punisher Skull Mean? Depends on Who You Ask!No one seems to agree with what Marvel anti-hero's iconic skull represents.
Compare