Long Sleeve Blue Punisher Skull Compression Workouts Tee Shirt
Super Hero Long Sleeve Compression Shirt For Unisex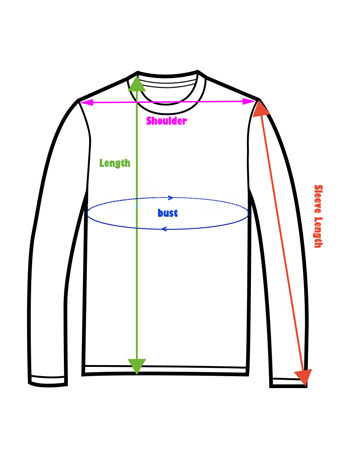 Measurement Tip 
Chest/Bust:
Take measurement up under the arms(1″ below armholes) and around chest
Waist:
Measure from Waist circumference (distance around the waist) at the narrowest point.
Shoulder:
With back of garment facing you, measure straight across from shoulder point to shoulder point at seam line (or natural fold) of shoulder.
Sleeve Length:
Measure from the top of armhole seam, down outside edge/fold to the bottom of the sleeve; Include cuff.
Length:High Point Shoulder (HPS) Back Length:
Measure from the back high point of shoulder seam (or from the natural shoulder fold) straight down to the bottom of garment, keeping the tape measure parallel to center back.
| Size | Bust(CM/INCH) | Length(CM/INCH) | Shoulder(CM/INCH) | Sleeve (CM/INCH) |
| --- | --- | --- | --- | --- |
| S | 83~90CM/32.7~35.4" | 60CM/23.6" | 39CM/15.4" | 58CM/22.8" |
| M | 96~96CM/33.8~37.8" | 61CM/24" | 40CM/15.7" | 60CM/23.6" |
| L | 89~105CM/33.8~37.8" | 62CM/24.4" | 41CM/16.1" | 62CM/24.4" |
| XL | 93~112CM/36.6~44.1" | 64CM/25.2" | 43CM/16.9" | 63CM/24.8" |
| 2XL | 96~118CM/37.8~46.5" | 66CM/26" | 45CM/17.7" | 64CM/25.2" |
| 3XL | 100~124CM/39.4~48.8" | 68CM/27.6" | 47CM/18.5" | 65CM/25.6" |
| 4XL | 104~130CM/40.9~51.2" | 70CM/27.6 | 49CM/19.3" | 66CM/26" |
Punisher Compression Shirt (the costume ultimately adopt  skull symbol from)- The Punisher (Francis "Frank" Castle, born Castiglione) is a fictional character appearing in American comic books published by Marvel Comics,Frank Castle was an honest ex-Marine with a family he loved. But when that family was murdered, he became a vigilante with a uniquely brutal brand of justice.
These high-quality punisher compression workout shirts were designed with a special blend of lycra, polyester, and spandex for a second-skin fit that hugs your muscles to optimize performance.Go longer, go harder, go faster with premium printed superhero-themed workout gear from PKAWAY®.
Slim Fit Perfect for all body types
Dri-fit,Moisture-wicking
Maintains body temperature on hot or cool days
Ideal for bodybuilding, soccer, running, cycling, or CrossFit
Special blend of spandex and polyester for enhanced elasticity
Each shirt has been professionally 3D-printed so that colors don't fade and shirts don't shrink, so you can rock the Punisher Super hero  compression running shirt look time and time again.
Compare