Punisher Compression Shirt Blue Short Sleeve Superhero T Shirt
$30.00
Super Hero Series Compression T Shirt For Unisex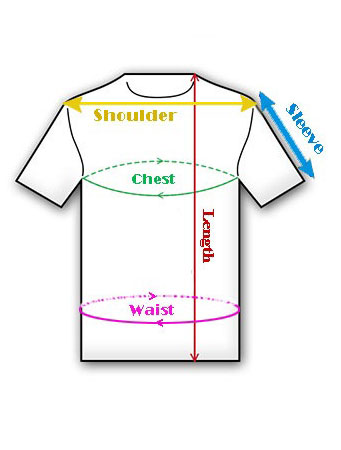 Measurement Tip 
Chest/Bust:
Take measurement up under the arms(1″ below armholes) and around chest
Waist:
Measure from Waist circumference (distance around the waist) at the narrowest point.
Shoulder:
With back of garment facing you, measure straight across from shoulder point to shoulder point at seam line (or natural fold) of shoulder.
Sleeve Length:
Measure from the top of armhole seam, down outside edge/fold to the bottom of the sleeve; Include cuff.
Length:High Point Shoulder (HPS) Back Length:
Measure from the back high point of shoulder seam (or from the natural shoulder fold) straight down to the bottom of garment, keeping the tape measure parallel to center back.
| Size | Chest(CM/INCH) | Length(CM/INCH) | Shoulder(CM/INCH) | Sleeve(CM/INCH) |
| --- | --- | --- | --- | --- |
| S | 83~90CM/32.7~35.4" | 60CM/23.6" | 39CM/15.4" | 16CM/6.3" |
| ,M | 86~96CM/33.8~37.8" | 61CM/24" | 40CM/15.7" | 17CM/6.7" |
| L | 89~105CM/35~41.3" | 62CM/24.4" | 41CM/16.1" | 18CM/7.1" |
| XL | 93~112CM/36.6~44.1" | 64CM/25.2" | 43CM/16.9" | 19CM/7.5" |
| 2XL | 96~118CM/37.8~46.5 | 66CM/26" | 45CM/17.7" | 20CM/7.9" |
| 3XL | 100~124CM/39.4~48.8" | 68CM/26.8" | 47CM/18.5" | 21CM/8.3" |
| 4XL | 104~130CM/40.9~51.2" | 70CM/27.6" | 49CM/19.3" | 22CM/8.7" |
>
The Punisher (Francis "Frank" Castle, born Castiglione) is a fictional character appearing in American comic books published by Marvel Comics. Born in New York to parents of Italian ancestory, Francis Castiglione a.k.a. PUNISHER is a former U.S. Marine Captain turned professional vigilante. In his vigilante endeavors, Castle has crossed paths with several costumed crime fighters, most notably Spider-Man and Daredevil. Punisher has been rated as one of the most dangerous criminals alive.
You can be a superhero too with the right short sleeve compression shirt to help strengthen your body.You can be a superhero too with the right short sleeve compression shirt to help strengthen your body. Well, okay, we admit that you won't necessarily obtain superhero strength, but you can wear your favorite superhero compression shirt to make your workouts even more effective wrapping and supporting the sections of your chest and arms, pumping oxygen inside those vital organs.
Whether your thing is running, gym or something else, you may not be able to become a superhero, but you can certainly feel like one after you're finished wearing this unique short sleeve PUNISHER compression shirt.
USA Brand:PKAWAY
Dri-fit superhero powered short sleeve PUNISHER compression shirt
wicks sweat away from the body to prevent chafing and rashes
Keeps the muscles warm to prevent muscle strain
Compare