Superheros Spiderman Gym Shirt Halloween Costume
$30.00
Super Hero Series Compression T Shirt For Unisex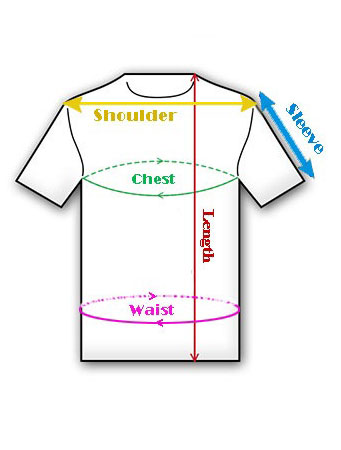 Measurement Tip 
Chest/Bust:
Take measurement up under the arms(1″ below armholes) and around chest
Waist:
Measure from Waist circumference (distance around the waist) at the narrowest point.
Shoulder:
With back of garment facing you, measure straight across from shoulder point to shoulder point at seam line (or natural fold) of shoulder.
Sleeve Length:
Measure from the top of armhole seam, down outside edge/fold to the bottom of the sleeve; Include cuff.
Length:High Point Shoulder (HPS) Back Length:
Measure from the back high point of shoulder seam (or from the natural shoulder fold) straight down to the bottom of garment, keeping the tape measure parallel to center back.
| Size | Chest(CM/INCH) | Length(CM/INCH) | Shoulder(CM/INCH) | Sleeve(CM/INCH) |
| --- | --- | --- | --- | --- |
| S | 83~90CM/32.7~35.4" | 60CM/23.6" | 39CM/15.4" | 16CM/6.3" |
| ,M | 86~96CM/33.8~37.8" | 61CM/24" | 40CM/15.7" | 17CM/6.7" |
| L | 89~105CM/35~41.3" | 62CM/24.4" | 41CM/16.1" | 18CM/7.1" |
| XL | 93~112CM/36.6~44.1" | 64CM/25.2" | 43CM/16.9" | 19CM/7.5" |
| 2XL | 96~118CM/37.8~46.5 | 66CM/26" | 45CM/17.7" | 20CM/7.9" |
| 3XL | 100~124CM/39.4~48.8" | 68CM/26.8" | 47CM/18.5" | 21CM/8.3" |
| 4XL | 104~130CM/40.9~51.2" | 70CM/27.6" | 49CM/19.3" | 22CM/8.7" |
>
SLIM DRI-FIT SHORT SLEEVE SPIDERMAN COMPRESSION SHIRT
Don't think over Spiderman Compression Shirt. Just Grab it from PKAWAY From Muscle right now and Be like your own Superhero. Ever wondered? We buy Superhero Compression top here and there, fight with homies over Spiderman, Batman, Superman Compressions. But Spiderman himself wear a Compression!!! Every thought about this? no?! Because you only think about Yourself. So does PKAWAY From Muscle.
The Good construction quality and Material. Long lasting and CoolMax Technology makes this Spiderman Compression Workouts Shirt best ever compression. Respect Spiderman and Wear what he Wears.
COMPRESSION CLOTH WEAR TEAR DETAILS
This Spiderman Compression Shirt comes with CoolMax Technology. Which helps user avoid excessive heat generated in surrounding. Using compression shirt with CoolMax Technology actually makes you a techie Guy. Cloth is almost no heavy to use. Also manages to absorb dirt from your Body. Temperature Control, Moisture Winking, Quick Dry are the bases of CoolMax technology used in this compression. Folks Wants to Buy Compression Shirt Onine ? This is great choice PKAWAY From Muscle.
EXTRA BITES- SPIDERMAN COMPRESSION T-SHIRT
Spiderman Compression Running Shirt is almost Cool spiderman suite. We assure the feel of spiderman after you buy and try our compressions.
Compare