Superheros Winter Soldier Long Sleeve Compression Shirt
Super Hero Long Sleeve Compression Shirt For Unisex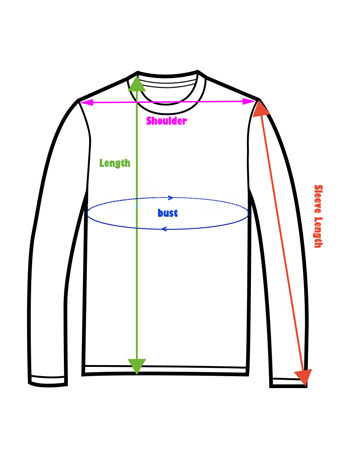 Measurement Tip 
Chest/Bust:
Take measurement up under the arms(1″ below armholes) and around chest
Waist:
Measure from Waist circumference (distance around the waist) at the narrowest point.
Shoulder:
With back of garment facing you, measure straight across from shoulder point to shoulder point at seam line (or natural fold) of shoulder.
Sleeve Length:
Measure from the top of armhole seam, down outside edge/fold to the bottom of the sleeve; Include cuff.
Length:High Point Shoulder (HPS) Back Length:
Measure from the back high point of shoulder seam (or from the natural shoulder fold) straight down to the bottom of garment, keeping the tape measure parallel to center back.
| Size | Bust(CM/INCH) | Length(CM/INCH) | Shoulder(CM/INCH) | Sleeve (CM/INCH) |
| --- | --- | --- | --- | --- |
| S | 83~90CM/32.7~35.4" | 60CM/23.6" | 39CM/15.4" | 58CM/22.8" |
| M | 96~96CM/33.8~37.8" | 61CM/24" | 40CM/15.7" | 60CM/23.6" |
| L | 89~105CM/33.8~37.8" | 62CM/24.4" | 41CM/16.1" | 62CM/24.4" |
| XL | 93~112CM/36.6~44.1" | 64CM/25.2" | 43CM/16.9" | 63CM/24.8" |
| 2XL | 96~118CM/37.8~46.5" | 66CM/26" | 45CM/17.7" | 64CM/25.2" |
| 3XL | 100~124CM/39.4~48.8" | 68CM/27.6" | 47CM/18.5" | 65CM/25.6" |
| 4XL | 104~130CM/40.9~51.2" | 70CM/27.6 | 49CM/19.3" | 66CM/26" |
Captain America: The Winter Soldier is a 2014 American superhero film based on the Marvel Comics character Captain America,it's sequel to 2011's Captain America: The First Avenger,The Winter Soldier's popularity proves any comics character can become a star if they're written right.Winter Soldier has had a long and roundabout history in the Marvel universe. As Bucky Barnes, he has been portrayed as everything from a bright-faced teenager to suave soldier. As Winter Soldier, he has played the role of an evil assassin, and one of an avenging hero.take this Winter Soldier Compression workouts shirt be your own super hero
PKAWAY® Winter Soldier Compression Gym Shirt benefits:
Short sleeves, a classic round neckline
Compression fit
Designed for Men (Unisex)
Physiological advantage
4-way stretch fabrication
Smooth,Moisture Transport System
Machine washable & Dryer Safe
Close – fitting: Easy for you to show off your muscles
Cosplay: Rock your Halloween party or Cosplay festival as whichever superhero you want.
Unique design: Looking your best while blasting your core. Why not?
Ideal material: Lightweight and good-quality fabric will help absorb and release moisture quickly.
Whether your thing is running, gym or something else, you may not be able to become a superhero, but you can certainly feel like one after you're finished wearing this unique long sleeve winter soldier compression shirt.
Compare