Superheros Superman Exercise Shirt Halloween Costumes
$30.00
Super Hero Long Sleeve Compression Shirt For Unisex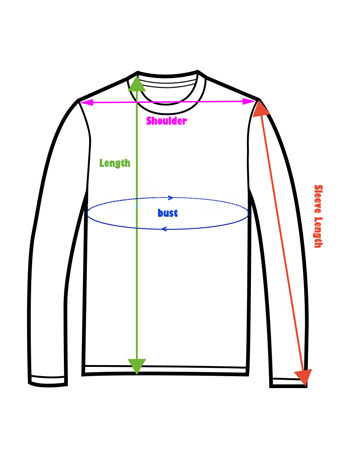 Measurement Tip 
Chest/Bust:
Take measurement up under the arms(1″ below armholes) and around chest
Waist:
Measure from Waist circumference (distance around the waist) at the narrowest point.
Shoulder:
With back of garment facing you, measure straight across from shoulder point to shoulder point at seam line (or natural fold) of shoulder.
Sleeve Length:
Measure from the top of armhole seam, down outside edge/fold to the bottom of the sleeve; Include cuff.
Length:High Point Shoulder (HPS) Back Length:
Measure from the back high point of shoulder seam (or from the natural shoulder fold) straight down to the bottom of garment, keeping the tape measure parallel to center back.
| Size | Bust(CM/INCH) | Length(CM/INCH) | Shoulder(CM/INCH) | Sleeve (CM/INCH) |
| --- | --- | --- | --- | --- |
| S | 83~90CM/32.7~35.4" | 60CM/23.6" | 39CM/15.4" | 58CM/22.8" |
| M | 96~96CM/33.8~37.8" | 61CM/24" | 40CM/15.7" | 60CM/23.6" |
| L | 89~105CM/33.8~37.8" | 62CM/24.4" | 41CM/16.1" | 62CM/24.4" |
| XL | 93~12CM/36.6~44.1" | 64CM/25.2" | 43CM/16.9" | 63CM/24.8" |
| 2XL | 96~118CM/37.8~46.5" | 66CM/26" | 45CM/17.7" | 64CM/25.2" |
| 3XL | 100~124CM/39.4~48.8" | 68CM/27.6" | 47CM/18.5" | 65CM/25.6" |
| 4XL | 104~130CM/40.9~51.2" | 70CM/27.6 | 49CM/19.3" | 66CM/26" |
>
Dri-fit superman compression shirt long sleeve,As workout clothes, fitness apparel or for everyday activity, our compression shirts provide support for your shoulders, arms and core so comfortably, you may forget its compression apparel. Our proprietary fabrics stretch in all directions for a comfortable fit while providing muscle recovery, support and wicking capabilities to keep you cool and dry.
Brand:PKAWAY
Slim Fit Quick Dry Compression Shirt Long Sleeve
Occasion:daily;sports;running;yoga;trainin;Gym
We proudly offer compression gear to fit every possible need. Whether you want to look your best in the gym or underneath your work clothes, our compression undershirt can be counted upon to slim your torso and present your best figure possible.
Searching for a long sleeve compression running shirt that can be worn comfortably all day long? We have you covered with cotton spandex crew neck shirts and microfiber compression t-shirts. Both fabrics offer multi-directional stretching, which allow the garments to conform to your body and stay with you as you move.
Compare