Batman Halloween Cosplay Costumes
$30.00
Super Hero Series Compression T Shirt For Unisex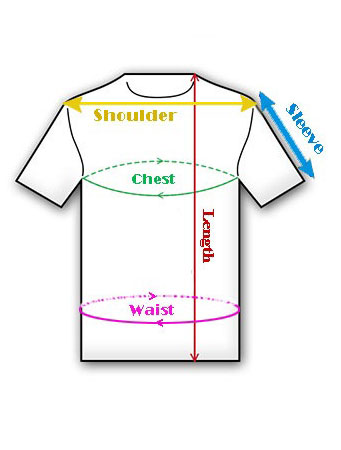 Measurement Tip 
Chest/Bust:
Take measurement up under the arms(1″ below armholes) and around chest
Waist:
Measure from Waist circumference (distance around the waist) at the narrowest point.
Shoulder:
With back of garment facing you, measure straight across from shoulder point to shoulder point at seam line (or natural fold) of shoulder.
Sleeve Length:
Measure from the top of armhole seam, down outside edge/fold to the bottom of the sleeve; Include cuff.
Length:High Point Shoulder (HPS) Back Length:
Measure from the back high point of shoulder seam (or from the natural shoulder fold) straight down to the bottom of garment, keeping the tape measure parallel to center back.
| Size | Chest(CM/INCH) | Length(CM/INCH) | Shoulder(CM/INCH) | Sleeve(CM/INCH) |
| --- | --- | --- | --- | --- |
| S | 83~90CM/32.7~35.4" | 60CM/23.6" | 39CM/15.4" | 16CM/6.3" |
| ,M | 86~96CM/33.8~37.8" | 61CM/24" | 40CM/15.7" | 17CM/6.7" |
| L | 89~105CM/35~41.3" | 62CM/24.4" | 41CM/16.1" | 18CM/7.1" |
| XL | 93~112CM/36.6~44.1" | 64CM/25.2" | 43CM/16.9" | 19CM/7.5" |
| 2XL | 96~118CM/37.8~46.5 | 66CM/26" | 45CM/17.7" | 20CM/7.9" |
| 3XL | 100~124CM/39.4~48.8" | 68CM/26.8" | 47CM/18.5" | 21CM/8.3" |
| 4XL | 104~130CM/40.9~51.2" | 70CM/27.6" | 49CM/19.3" | 22CM/8.7" |
>
why do people love Batman so much? On the surface, Bruce Wayne is a billionaire with endless amounts of funds, access to the best technology, and doesn't need to have superpowers because he's rich. Doesn't necessarily sound like the underdog story that we enjoy so much from other superheroes. There's not many of us who can relate to someone with endless money.
Batman is more than that. Bruce Wayne, at the center of everything; who is someone who made a dark space for himself after witnessing his parents die. Despite looking like a privileged person on the outside, he is carrying an unbelievable tragedy on his shoulders. One that has affected him so deeply that he felt he needed to take justice in his own hands. Bruce saw that Gotham could not take care of its crime problem on its own and decided something needed to be down. We see corruption all the time. Whether it's on the streets or on the news, it's there. Anyone who has had a tragedy bestowed on them and felt like nothing was being done to rectify it can relate to Bruce Wayne deciding enough was enough.
If you're trying to figure out a killer Halloween costume for 2019, superhero outfits are bulletproof (yes, even if you're a grown-up). Not only are high-quality superhero costumes easy to find online, but also they're highly recognizable — making them stand out at a party or on Instagram.
Use our Halloween Cosplay Costumes make your superhero dream become true, we offer cosplay Movie and Game Cosplay costumes for you. We will help you dress up like superhero with our quality SuperHero Cosplay Costumes!
Compare