Captain America Workout Shirt Long Sleeve Dri Fit Shirt
$30.00
Super Hero Long Sleeve Compression Shirt For Unisex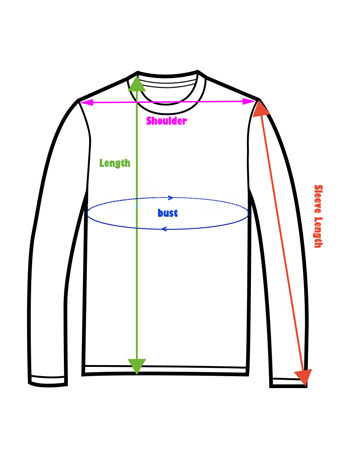 Measurement Tip 
Chest/Bust:
Take measurement up under the arms(1″ below armholes) and around chest
Waist:
Measure from Waist circumference (distance around the waist) at the narrowest point.
Shoulder:
With back of garment facing you, measure straight across from shoulder point to shoulder point at seam line (or natural fold) of shoulder.
Sleeve Length:
Measure from the top of armhole seam, down outside edge/fold to the bottom of the sleeve; Include cuff.
Length:High Point Shoulder (HPS) Back Length:
Measure from the back high point of shoulder seam (or from the natural shoulder fold) straight down to the bottom of garment, keeping the tape measure parallel to center back.
| Size | Bust(CM/INCH) | Length(CM/INCH) | Shoulder(CM/INCH) | Sleeve (CM/INCH) |
| --- | --- | --- | --- | --- |
| S | 83~90CM/32.7~35.4" | 60CM/23.6" | 39CM/15.4" | 58CM/22.8" |
| M | 96~96CM/33.8~37.8" | 61CM/24" | 40CM/15.7" | 60CM/23.6" |
| L | 89~105CM/33.8~37.8" | 62CM/24.4" | 41CM/16.1" | 62CM/24.4" |
| XL | 93~12CM/36.6~44.1" | 64CM/25.2" | 43CM/16.9" | 63CM/24.8" |
| 2XL | 96~118CM/37.8~46.5" | 66CM/26" | 45CM/17.7" | 64CM/25.2" |
| 3XL | 100~124CM/39.4~48.8" | 68CM/27.6" | 47CM/18.5" | 65CM/25.6" |
| 4XL | 104~130CM/40.9~51.2" | 70CM/27.6 | 49CM/19.3" | 66CM/26" |
>
Captain America was created by Joe Simon and Jack Kirby as a response to the booming popularity of patriotically-themed super heroes in the 1940's. Though it was rare for any character, let alone a new one, to get a self-named title in those days, he debuted in Captain America Comics #1 (March,1941). He was depicted fighting Adolph Hitler himself on the cover even though the United States had not yet entered World War II and wouldn't for another 9 months. Debuting along with Captain America in this comic was his teenage partner Bucky, and his arch-enemy the Red Skull. This issue sold nearly one million copies and Captain America soon became Marvel's best-selling character.
Brand:PKAWAY®
87% Polyester, 13% Spandex Workout tights – Smooth and Ultra-Soft Fabric that provides extreme comfort with very little weight without restriction
This Compression pants,workout gear good for both women and Men. Designed for all seasons and all fitness exercise (workouts,training, baseball, basketball, soccer, American football, NFL, Squat, weight training, cycle, surfing, yoga, all weather sports)
Non abrasion fabric material with excellent elasticity and durability, UV BLOCKING 98.8%
Moisture Sensing/Quick time Dry/TWO-WAY Air Circulation, Heat retention in Winter and Cool in Summer, Thermal Winter gear
Quick and Dry Transport System – Wicks Sweat away from the body, keeping you cooler and drier
Compare