Black Superman Compression Shirt Long Sleeve
Super Hero Long Sleeve Compression Shirt For Unisex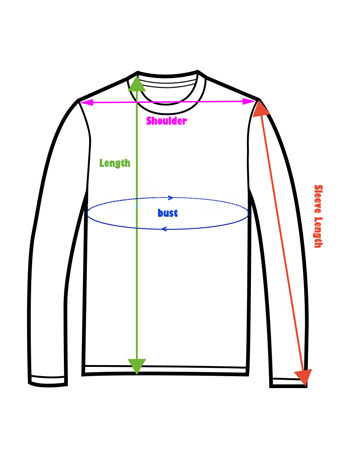 Measurement Tip 
Chest/Bust:
Take measurement up under the arms(1″ below armholes) and around chest
Waist:
Measure from Waist circumference (distance around the waist) at the narrowest point.
Shoulder:
With back of garment facing you, measure straight across from shoulder point to shoulder point at seam line (or natural fold) of shoulder.
Sleeve Length:
Measure from the top of armhole seam, down outside edge/fold to the bottom of the sleeve; Include cuff.
Length:High Point Shoulder (HPS) Back Length:
Measure from the back high point of shoulder seam (or from the natural shoulder fold) straight down to the bottom of garment, keeping the tape measure parallel to center back.
| Size | Bust(CM/INCH) | Length(CM/INCH) | Shoulder(CM/INCH) | Sleeve (CM/INCH) |
| --- | --- | --- | --- | --- |
| S | 83~90CM/32.7~35.4" | 60CM/23.6" | 39CM/15.4" | 58CM/22.8" |
| M | 96~96CM/33.8~37.8" | 61CM/24" | 40CM/15.7" | 60CM/23.6" |
| L | 89~105CM/33.8~37.8" | 62CM/24.4" | 41CM/16.1" | 62CM/24.4" |
| XL | 93~112CM/36.6~44.1" | 64CM/25.2" | 43CM/16.9" | 63CM/24.8" |
| 2XL | 96~118CM/37.8~46.5" | 66CM/26" | 45CM/17.7" | 64CM/25.2" |
| 3XL | 100~124CM/39.4~48.8" | 68CM/27.6" | 47CM/18.5" | 65CM/25.6" |
| 4XL | 104~130CM/40.9~51.2" | 70CM/27.6 | 49CM/19.3" | 66CM/26" |
Superman is widely considered a cultural icon of the United States.Superman popularized the superhero genre and defined its conventions. He is to this day one of the most lucrative superhero franchises.
DO YOU HAVE THE WILL TO MAKE SUPERMAN DREAMS INEVITABLE? PUT THIS Cool SUPERMAN COMPRESSION SHIRT ON AND WORK TO BECOME THE MAN OF STEEL YOU'RE MEANT TO BE.
PKAWAY® Superman Compression Running Shirt Benefits:
4-Way Durability – Long-lasting and built for performance, we finally crafted a suit that can even repel Kryptonite
UV Protection – Remember, you get your powers from the Sun. Make sure your suit has coverage that keeps you cool without slowing down
Breathable – Whether you're literally spinning the Earth back in time or just lugging hay on the family farm, you're equipped with support and range of motion to take on any task
Moisture-Wicking – We all got a Lex Luthor hating on us even though he doesn't even lift. Stay flexing on him and never break a sweat
Quick-Dry – We engineered your suit to dry faster than Super Breath, so you can stay comfortable and odor-free
Whether your thing is running, gym or something else, you may not be able to become a superhero, but you can certainly feel like one after you're finished wearing this unique long sleeve superman compression workouts shirt.
Compare