Long Sleeve Captain America Compression Athletic Shirt
$30.00
Super Hero Long Sleeve Compression Shirt For Unisex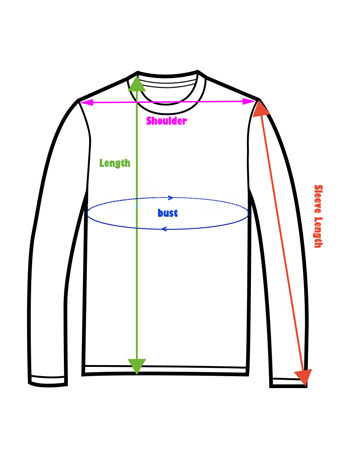 Measurement Tip 
Chest/Bust:
Take measurement up under the arms(1″ below armholes) and around chest
Waist:
Measure from Waist circumference (distance around the waist) at the narrowest point.
Shoulder:
With back of garment facing you, measure straight across from shoulder point to shoulder point at seam line (or natural fold) of shoulder.
Sleeve Length:
Measure from the top of armhole seam, down outside edge/fold to the bottom of the sleeve; Include cuff.
Length:High Point Shoulder (HPS) Back Length:
Measure from the back high point of shoulder seam (or from the natural shoulder fold) straight down to the bottom of garment, keeping the tape measure parallel to center back.
| Size | Bust(CM/INCH) | Length(CM/INCH) | Shoulder(CM/INCH) | Sleeve (CM/INCH) |
| --- | --- | --- | --- | --- |
| S | 83~90CM/32.7~35.4" | 60CM/23.6" | 39CM/15.4" | 58CM/22.8" |
| M | 96~96CM/33.8~37.8" | 61CM/24" | 40CM/15.7" | 60CM/23.6" |
| L | 89~105CM/33.8~37.8" | 62CM/24.4" | 41CM/16.1" | 62CM/24.4" |
| XL | 93~12CM/36.6~44.1" | 64CM/25.2" | 43CM/16.9" | 63CM/24.8" |
| 2XL | 96~118CM/37.8~46.5" | 66CM/26" | 45CM/17.7" | 64CM/25.2" |
| 3XL | 100~124CM/39.4~48.8" | 68CM/27.6" | 47CM/18.5" | 65CM/25.6" |
| 4XL | 104~130CM/40.9~51.2" | 70CM/27.6 | 49CM/19.3" | 66CM/26" |
>
Captain America is a fictional superhero appearing in American comic books published by Marvel Comics. Created by cartoonists Joe Simon and Jack Kirby,The character wears a costume bearing an American flag motif, and he utilizes a nearly indestructible shield which he throws as a projectile. Captain America is the alter ego of Steve Rogers, a frail young man enhanced to the peak of human perfection by an experimental serum to aid the United States government's efforts in World War II. Near the end of the war, he was trapped in ice and survived in suspended animation until he was revived in the present day. Although Captain America often struggles to maintain his ideals as a man out of his time with its modern realities, he remains a highly respected figure in his community which includes becoming the long-time leader of the Avengers.
To be yourown superhero with the right long sleeve Captain America compression shirt to help strengthen your body. Well, okay, we admit that you won't necessarily obtain superhero strength, but you can wear your favorite superhero compression shirt to make your workouts even more effective wrapping and supporting the sections of your chest and arms, pumping oxygen inside those vital organs.
Brand:PKAWAY
100% Polyester Shirt
Dri-fit long sleeve Superhero Captain America compression shirt
wicks sweat away from the body to prevent chafing and rashes
Keeps the muscles warm to prevent muscle strain
Suitable for all sports indoors and outdoors,such like:halloween costume,cosplay,gym,workouts,running,yoga,cross training and etc
Compare