Black Superman Compression Athletic Shirt
Super Hero Series Compression T Shirt For Unisex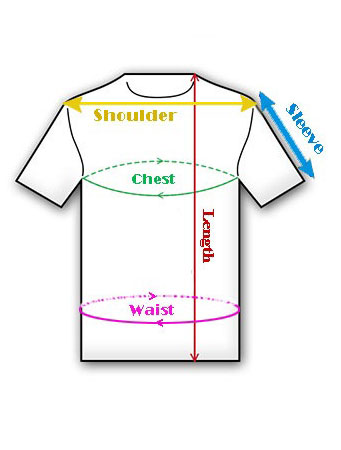 Measurement Tip 
Chest/Bust:
Take measurement up under the arms(1″ below armholes) and around chest
Waist:
Measure from Waist circumference (distance around the waist) at the narrowest point.
Shoulder:
With back of garment facing you, measure straight across from shoulder point to shoulder point at seam line (or natural fold) of shoulder.
Sleeve Length:
Measure from the top of armhole seam, down outside edge/fold to the bottom of the sleeve; Include cuff.
Length:High Point Shoulder (HPS) Back Length:
Measure from the back high point of shoulder seam (or from the natural shoulder fold) straight down to the bottom of garment, keeping the tape measure parallel to center back.
| Size | Chest(CM/INCH) | Length(CM/INCH) | Shoulder(CM/INCH) | Sleeve(CM/INCH) |
| --- | --- | --- | --- | --- |
| S | 83~90CM/32.7~35.4" | 60CM/23.6" | 39CM/15.4" | 16CM/6.3" |
| ,M | 86~96CM/33.8~37.8" | 61CM/24" | 40CM/15.7" | 17CM/6.7" |
| L | 89~105CM/35~41.3" | 62CM/24.4" | 41CM/16.1" | 18CM/7.1" |
| XL | 93~112CM/36.6~44.1" | 64CM/25.2" | 43CM/16.9" | 19CM/7.5" |
| 2XL | 96~118CM/37.8~46.5 | 66CM/26" | 45CM/17.7" | 20CM/7.9" |
| 3XL | 100~124CM/39.4~48.8" | 68CM/26.8" | 47CM/18.5" | 21CM/8.3" |
| 4XL | 104~130CM/40.9~51.2" | 70CM/27.6" | 49CM/19.3" | 22CM/8.7" |
This Short Sleeve Dri-fit Superman Compression Shirt With Superman's iconic S emblazoned on your chest, you can leave your home feeling like you're ready to do battle with any villain in your way. Even if this Superman compression top can't give you super strength like the superhero himself, it can definitely give you an extra boost with your workouts. Since the shirt is so form-fitting, it's even easy to wear it underneath your work clothing when you need to feel a little more like a hero.
This Superman running shirt is available in all sizes from S to 4XL and can be work whatever the weather! That's because it is made with our PKAWAY technology to wick away sweat quickly in stressful situations.
US Brand:PKAWAY
Form-fitting and comfortable to wear without making you feel sweaty or smelly
Able to be worn for a variety of activities thanks to the stretchy quality
Dries very quickly after a workout or in stressful situations
If you're wearing your shirt underneath your clothing like Clark Kent, you won't have to worry about sweating uncomfortably. Or about any odor after a workout. The 4-way stretch construction of the polyester and spandex blend makes the shirt easy to wear and move in like a real superhero costume. Whether you're saving town citizens or simply running to the office, this will help you unleash your superhero side.
Compare