Superman Compression Shirt Long Sleeve
$30.00
Super Hero Long Sleeve Compression Shirt For Unisex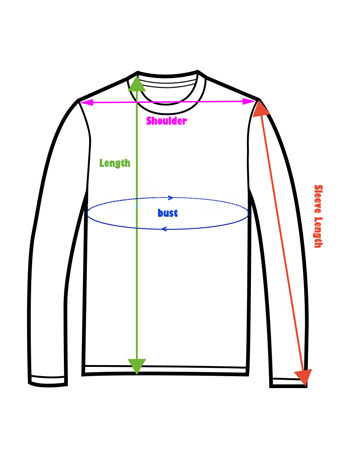 Measurement Tip 
Chest/Bust:
Take measurement up under the arms(1″ below armholes) and around chest
Waist:
Measure from Waist circumference (distance around the waist) at the narrowest point.
Shoulder:
With back of garment facing you, measure straight across from shoulder point to shoulder point at seam line (or natural fold) of shoulder.
Sleeve Length:
Measure from the top of armhole seam, down outside edge/fold to the bottom of the sleeve; Include cuff.
Length:High Point Shoulder (HPS) Back Length:
Measure from the back high point of shoulder seam (or from the natural shoulder fold) straight down to the bottom of garment, keeping the tape measure parallel to center back.
| Size | Bust(CM/INCH) | Length(CM/INCH) | Shoulder(CM/INCH) | Sleeve (CM/INCH) |
| --- | --- | --- | --- | --- |
| S | 83~90CM/32.7~35.4" | 60CM/23.6" | 39CM/15.4" | 58CM/22.8" |
| M | 96~96CM/33.8~37.8" | 61CM/24" | 40CM/15.7" | 60CM/23.6" |
| L | 89~105CM/33.8~37.8" | 62CM/24.4" | 41CM/16.1" | 62CM/24.4" |
| XL | 93~12CM/36.6~44.1" | 64CM/25.2" | 43CM/16.9" | 63CM/24.8" |
| 2XL | 96~118CM/37.8~46.5" | 66CM/26" | 45CM/17.7" | 64CM/25.2" |
| 3XL | 100~124CM/39.4~48.8" | 68CM/27.6" | 47CM/18.5" | 65CM/25.6" |
| 4XL | 104~130CM/40.9~51.2" | 70CM/27.6 | 49CM/19.3" | 66CM/26" |
>
If you're going to be the most famous superhero of all-time, you better be able to fire super-dwarves out of your hands. Or at the very least have an amazing ability for knitting. Thankfully, DC's writers have been more than up to the challenge of making Superman as super as possible, and the world is a better place for it. Ever since he first appeared in 1938's Action Comics #1, the Man of Steel has racked up a litany of abilities beyond our wildest dreams. Forget flight, invulnerability, and speed, we're talking about the genuinely ludicrous superpowers that only someone who's flown well past the point of reason could come up with.
Brand:PKAWAY®
87% Polyester, 13% Spandex Workout tights – Smooth and Ultra-Soft Fabric that provides extreme comfort with very little weight without restriction
This Compression pants,workout gear good for both women and Men. Designed for all seasons and all fitness exercise (workouts,training, baseball, basketball, soccer, American football, NFL, Squat, weight training, cycle, surfing, yoga, all weather sports)
Non abrasion fabric material with excellent elasticity and durability, UV BLOCKING 98.8%
Moisture Sensing/Quick time Dry/TWO-WAY Air Circulation, Heat retention in Winter and Cool in Summer, Thermal Winter gear
Quick and Dry Transport System – Wicks Sweat away from the body, keeping you cooler and drier
Compare