Thor Compression Shirt Short Sleeve Dri-Fit Superhero Running Tee
$36.00
Super Hero Series Compression T Shirt For Unisex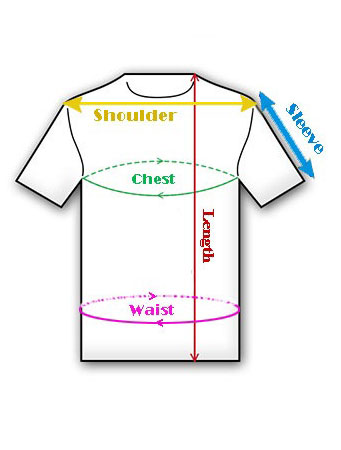 Measurement Tip 
Chest/Bust:
Take measurement up under the arms(1″ below armholes) and around chest
Waist:
Measure from Waist circumference (distance around the waist) at the narrowest point.
Shoulder:
With back of garment facing you, measure straight across from shoulder point to shoulder point at seam line (or natural fold) of shoulder.
Sleeve Length:
Measure from the top of armhole seam, down outside edge/fold to the bottom of the sleeve; Include cuff.
Length:High Point Shoulder (HPS) Back Length:
Measure from the back high point of shoulder seam (or from the natural shoulder fold) straight down to the bottom of garment, keeping the tape measure parallel to center back.
| Size | Chest(CM/INCH) | Length(CM/INCH) | Shoulder(CM/INCH) | Sleeve(CM/INCH) |
| --- | --- | --- | --- | --- |
| S | 83~90CM/32.7~35.4" | 60CM/23.6" | 39CM/15.4" | 16CM/6.3" |
| ,M | 86~96CM/33.8~37.8" | 61CM/24" | 40CM/15.7" | 17CM/6.7" |
| L | 89~105CM/35~41.3" | 62CM/24.4" | 41CM/16.1" | 18CM/7.1" |
| XL | 93~112CM/36.6~44.1" | 64CM/25.2" | 43CM/16.9" | 19CM/7.5" |
| 2XL | 96~118CM/37.8~46.5 | 66CM/26" | 45CM/17.7" | 20CM/7.9" |
| 3XL | 100~124CM/39.4~48.8" | 68CM/26.8" | 47CM/18.5" | 21CM/8.3" |
| 4XL | 104~130CM/40.9~51.2" | 70CM/27.6" | 49CM/19.3" | 22CM/8.7" |
>
Avengers 3 THOR As the Norse God of thunder and lightning, Thor wields one of the greatest weapons ever made, the enchanted hammer Mjolnir. While others have described Thor as an over-muscled, oafish imbecile, he's quite smart and compassionate. He's self-assured, and he would never, ever stop fighting for a worthwhile cause.
When it's warm out and you'd like to get a good workout, it can be difficult with some of the workout gear available to you. It's too warm for long sleeves, That's why our short sleeve superhero compression tops may be exactly what you're looking for! With designs that are meant to make you feel like a superhero, you'll love showing off those muscles! Pick out your favorite superhero to give you the strength and energy to become a superhero yourself, even if you may not end up with any special powers.
Made of 100% Polyester
Look cool, come in a variety of fashionable colors and unique patterns:super hero thor
keeps the muscles warm to prevent muscle strain
wicks sweat away from the body to prevent chafing and rashes
Reducing the time taken for muscles to repair themselves.
Prevent Running Injuries for Life
improving venous return and oxygenation to working muscles.
Dri-fit slim compression runnging tee.perfect for Sport,workouts,gym,running,party favor…
Also can be a super hero gift.
Compare