Superheros Superman Compression Shirt For Gym
$30.00
Super Hero Series Compression T Shirt For Unisex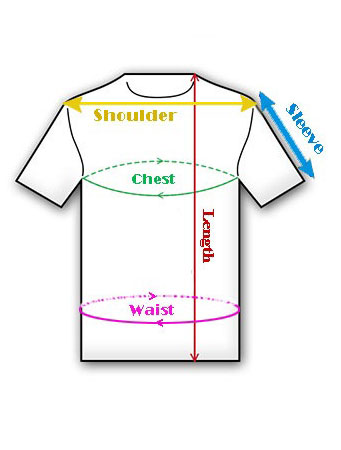 Measurement Tip 
Chest/Bust:
Take measurement up under the arms(1″ below armholes) and around chest
Waist:
Measure from Waist circumference (distance around the waist) at the narrowest point.
Shoulder:
With back of garment facing you, measure straight across from shoulder point to shoulder point at seam line (or natural fold) of shoulder.
Sleeve Length:
Measure from the top of armhole seam, down outside edge/fold to the bottom of the sleeve; Include cuff.
Length:High Point Shoulder (HPS) Back Length:
Measure from the back high point of shoulder seam (or from the natural shoulder fold) straight down to the bottom of garment, keeping the tape measure parallel to center back.
| Size | Chest(CM/INCH) | Length(CM/INCH) | Shoulder(CM/INCH) | Sleeve(CM/INCH) |
| --- | --- | --- | --- | --- |
| S | 83~90CM/32.7~35.4" | 60CM/23.6" | 39CM/15.4" | 16CM/6.3" |
| ,M | 86~96CM/33.8~37.8" | 61CM/24" | 40CM/15.7" | 17CM/6.7" |
| L | 89~105CM/35~41.3" | 62CM/24.4" | 41CM/16.1" | 18CM/7.1" |
| XL | 93~112CM/36.6~44.1" | 64CM/25.2" | 43CM/16.9" | 19CM/7.5" |
| 2XL | 96~118CM/37.8~46.5 | 66CM/26" | 45CM/17.7" | 20CM/7.9" |
| 3XL | 100~124CM/39.4~48.8" | 68CM/26.8" | 47CM/18.5" | 21CM/8.3" |
| 4XL | 104~130CM/40.9~51.2" | 70CM/27.6" | 49CM/19.3" | 22CM/8.7" |
>
Superman is a fictional superhero created by writer Jerry Siegel and artist Joe Shuster,He appears regularly in American comic books published by DC Comics,Superman is widely considered a cultural icon of the United States,Superman was born on the planet Krypton, and as a baby was sent to Earth in a small spaceship by his scientist father Jor-El,changes into a colorful costume and uses the alias "Superman" when fighting crime. Superman's love interest is his fellow journalist Lois Lane, and his classic archenemy is the genius inventor Lex Luthor. He is a friend of many other superheroes in the DC Universe, such as Batman and Wonder Woman.
To be yourown superhero with the right superman compression running shirt to help strengthen your body. Well, okay, we admit that you won't necessarily obtain superhero strength, but you can wear your favorite superhero compression shirt to make your workouts even more effective wrapping and supporting the sections of your chest and arms, pumping oxygen inside those vital organs.
Brand:PKAWAY
Made of 100% Polyester
Quick dry short sleeve superman compression workouts shirt
wicks sweat away from the body to prevent chafing and rashes
Keeps the muscles warm to prevent muscle strain
Dri-fit slim compression runnging tee.perfect for gym,workouts,running,costume play party…
Compare