Superman Dri Fit Shirt Short Sleeve Workouts Tee
$30.00
Super Hero Series Compression T Shirt For Unisex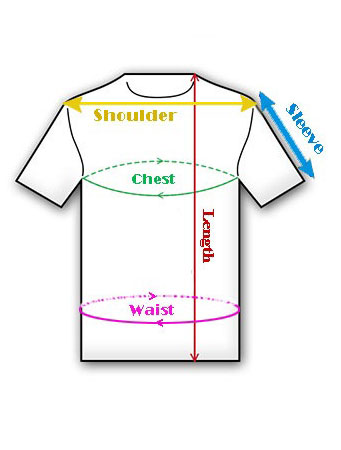 Measurement Tip 
Chest/Bust:
Take measurement up under the arms(1″ below armholes) and around chest
Waist:
Measure from Waist circumference (distance around the waist) at the narrowest point.
Shoulder:
With back of garment facing you, measure straight across from shoulder point to shoulder point at seam line (or natural fold) of shoulder.
Sleeve Length:
Measure from the top of armhole seam, down outside edge/fold to the bottom of the sleeve; Include cuff.
Length:High Point Shoulder (HPS) Back Length:
Measure from the back high point of shoulder seam (or from the natural shoulder fold) straight down to the bottom of garment, keeping the tape measure parallel to center back.
| Size | Chest(CM/INCH) | Length(CM/INCH) | Shoulder(CM/INCH) | Sleeve(CM/INCH) |
| --- | --- | --- | --- | --- |
| S | 83~90CM/32.7~35.4" | 60CM/23.6" | 39CM/15.4" | 16CM/6.3" |
| ,M | 86~96CM/33.8~37.8" | 61CM/24" | 40CM/15.7" | 17CM/6.7" |
| L | 89~105CM/35~41.3" | 62CM/24.4" | 41CM/16.1" | 18CM/7.1" |
| XL | 93~112CM/36.6~44.1" | 64CM/25.2" | 43CM/16.9" | 19CM/7.5" |
| 2XL | 96~118CM/37.8~46.5 | 66CM/26" | 45CM/17.7" | 20CM/7.9" |
| 3XL | 100~124CM/39.4~48.8" | 68CM/26.8" | 47CM/18.5" | 21CM/8.3" |
| 4XL | 104~130CM/40.9~51.2" | 70CM/27.6" | 49CM/19.3" | 22CM/8.7" |
>
Look! Up in the sky! It's a bird! It's a plane! It's Super-Ambiguous-Power-Set Man! Superman, the Man of Steel, doesn't just have a core set of powers, he has just about any power you can dream up. What are the most awesome of Superman's epic (and sometimes epically ridiculous) powers?
More powerful than a locomotive, able to leap tall buildings in a single bound – that's how it started. Slowly, over time, something happened, the Man of Steel developed any power the writers needed at the moment, while his weaknesses stayed largely the same. There was a time Superman could literally launch little Supermen out of his fingers to do his bidding. No wonder DC has had so many infinity crises to reboot continuity.
Enjoy the weirdest, the wackiest, the silliest of Superman's powers to make it to print. This is a list of ALL of Superman's powers, even the completely crazy ones.
Brand:PKAWAY®
87% Polyester, 13% Spandex Workout tights – Smooth and Ultra-Soft Fabric that provides extreme comfort with very little weight without restriction
This Compression pants,workout gear good for both women and Men. Designed for all seasons and all fitness exercise (workouts,training, baseball, basketball, soccer, American football, NFL, Squat, weight training, cycle, surfing, yoga, all weather sports)
Non abrasion fabric material with excellent elasticity and durability, UV BLOCKING 98.8%
Moisture Sensing/Quick time Dry/TWO-WAY Air Circulation, Heat retention in Winter and Cool in Summer, Thermal Winter gear
Quick and Dry Transport System – Wicks Sweat away from the body, keeping you cooler and drier
Compare