2021 was a satisfying year for action cinema fans, 2022 is shaping up to be even more thrilling. With several action movies of all budgets slated for theatrical and streaming release this year, let's take a quick look at what film industries worldwide have in store for us.
Hollywood is back in full swing despite ongoing pandemic-related obstacles, and both Marvel and DC have multiple superhero blockbusters coming this year. Aside from the expected MCU installments like Doctor Strange in the Multiverse of Madness and Thor: Love and Thunder, it's the animated sequel Across the Spider-Verse, due this fall, that looks like it could be the most likely to embrace the wonder and the unexpected. It's also hard not to eagerly await Matt Reeves' version of The Batman despite the character's ubiquity — with its stacked cast and gorgeous trailers, the film could end up being one the year's biggest events. Other blockbusters that could prove interesting include Ambulance (where it seems Michael Bay has discovered drones) and Bullet Train (the next outing from David Leitch and 87North, known for John Wick, Atomic Blonde, and Nobody), telling the story of five assassins on a bullet train who discover their missions have something in common. And, of course, James Cameron's Avatar 2 is finally coming out at the end of the year.
As the DC movie universe prepares to unleash its next wave with The Flash, Aquaman and the Lost Kingdom, and more, we're of course keeping an eye on the overall plan for not just the DC Extended Universe but also the DC Comics live-action movie and projects that may not quite fall into that particular world.
Unlike Marvel, DC's plans don't include synergy across all mediums. Their movies, while containing many of the same characters, don't generally cross over with the CW TV-verse that includes The Flash, Legends of Tomorrow, and Superman & Lois, or DC Universe streaming shows like Titans and Doom Patrol. Even the Robert Pattinson/Matt Reeves Batman is set in a different universe from the other current DC movies. At the same time, some HBO Max exclusives are direct tie-ins to the DCEU, such as Gotham PD and Peacemaker.
So let's take a look at the road ahead for both the DCEU and the bigger universe of DC movies and shows. From Black Adam to Shazam! Fury of the Gods to Aquaman 2 and beyond, read on for all of DC's planned movies and shows. Some of these are definitely happening, some are in development, and some have big question marks surrounding them, but all could wind up on the big screen sooner or later… (And head here if you want a breakdown of just which DC 2022 movies and TV shows are happening.)
With all of our movie-themed Halloween costumes, you can look like you're ready for the big screen in no time!
The Batman (Mar 04, 2022)
When the Riddler, a sadistic serial killer, begins murdering key political figures in Gotham, Batman is forced to investigate the city's hidden corruption and question his family's involvement.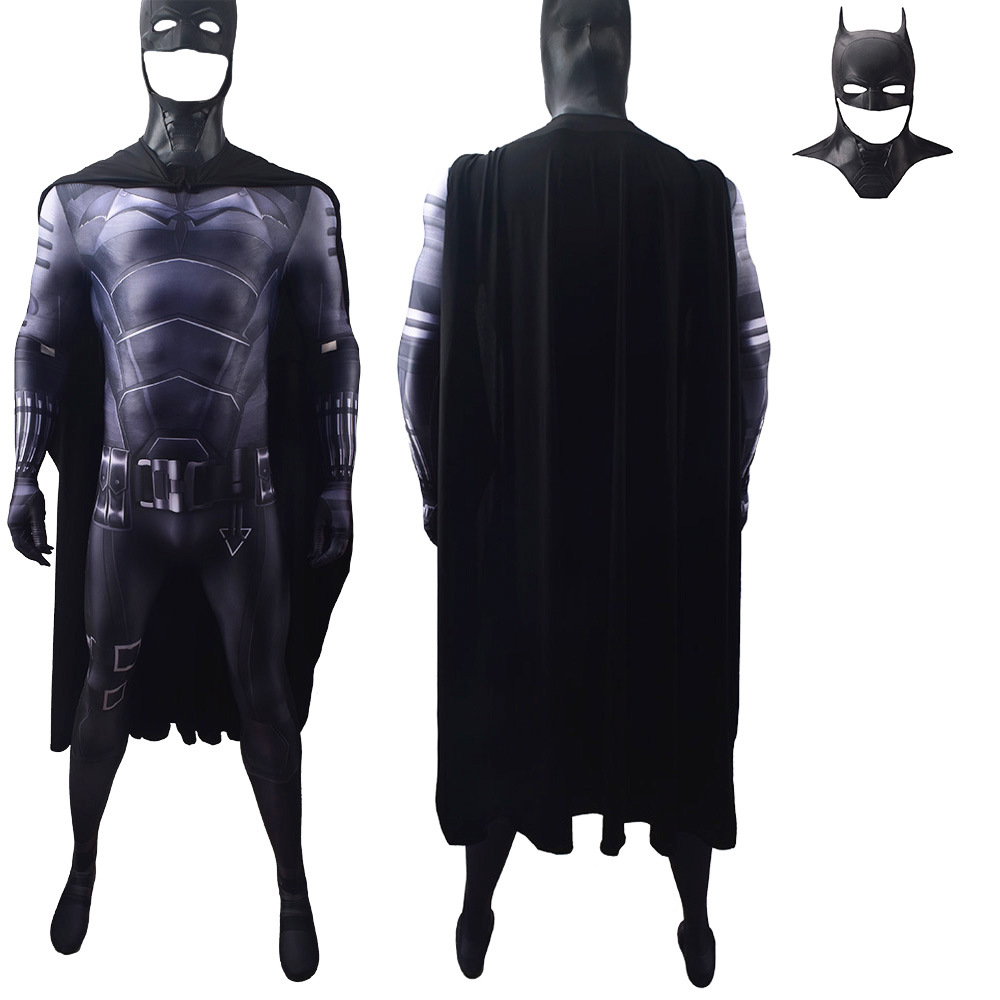 Thor: Love and Thunder (2022)
The sequel to Thor: Ragnarok and the fourth movie in the Thor saga.
Thor: Love and Thunder is scheduled for a summer release in July. New updates from the set have been keeping fans on their toes while waiting for the sure-to-be superhit's release especially after movie-goers hailed the previous edition of the franchise. Directed by Taika Waititi, the movie has a star-studded cast with Chris Hemsworth helming the project as Thor alongside Christian Bale, Natalie Portman, Matt Damon and more.
According to recent reports, via Comicbook, the movie is set to go back into filming for another bout of reshoots with Christian Bale, who is seemingly playing the character of Gorr the God Butcher in the movie, has been called back for another round of additional photography which is the most significant part of MCU productions. Reshoots were said to have begun again last week following an additional second-round of photography earlier this year. Not much has been revealed about Bales' reshoots and it is still unclear if they have already concluded them or have yet to commence them altogether.
Meanwhile, Director Waititi has gone on record to share the little with the fans he is allowed to tease without setting off MCU's security alarms. In a previous interview, he revealed that the new movie will have some similarities with its predecessor Thor: Ragnarok. Waititi also made it a point to note that this movie is by far the craziest movie he has ever created given his adventurous life and numerous "crazy" anecdotes to boast of. He went on to remark, "If you wrote down all the elements of this film, it shouldn't make sense. It's almost like it shouldn't be made."
Black Panther: Wakanda Forever (November 11, 2022)
A look at the Black Panther: Wakanda Forever behind-the-scenes crew and production team. The film's director Ryan Coogler last directed Black Panther and Creed. The film's writer Ryan Coogler last wrote Creed.
Spider-Man: Across the Spider-Verse (Oct 7, 2022)
Miles Morales returns for the next chapter of the Spider-Verse saga, an epic adventure that will transport Brooklyn's full-time, friendly neighborhood Spider-Man across the Multiverse to join forces with Gwen Stacy and a new team of Spider-People to face off with a villain more powerful than anything they have ever encountered.
Aquaman and the Lost Kingdom (Dec 16, 2022)
The first Aquaman made over a billion dollars worldwide, becoming the highest-grossing DC film of all time for Warner Bros. So yeah, a sequel is happening. Director James Wan returns to helm Aquaman 2, while David Leslie Johnson-McGoldrick, who co-wrote the first film, is scripting. Jason Momoa, Amber Heard, Patrick Wilson, and Yahya Abdul-Mateen II are also returning.
Avatar 2 (Dec 16, 2022)
Dwayne Johnson's Black Adam is finally making his movie debut in 2022. This one has been in the works for years, and will also feature the Justice Society of America with Noah Centineo as Atom Smasher, Aldis Hodge as Hawkman, Quintessa Swindell as Cyclone, and Pierce Brosnan as Doctor Fate. (On March 9, Black Adam's release date was pushed back from July to October 2022 and DC League of Super Pets was pushed from May to Black Adam's previous July date.)
Jake Sully lives with his newfound family formed on the planet of Pandora. Once a familiar threat returns to finish what was previously started, Jake must work with Neytiri and the army of the Na'vi race to protect their planet.
Black Adam (October 21, 2022)
Nearly 5,000 years after he was bestowed with the almighty powers of the Egyptian gods-and imprisoned just as quickly-Black Adam (Johnson) is freed from his earthly tomb, ready to unleash his unique form of justice on the modern world.
Fantastic Beasts: The Secrets of Dumbledore (April,2022)
Throughout the "Harry Potter" franchise, a variety of directors have brought to the screen the world that J.K Rowling created in one of the most acclaimed and beloved children's sagas in the world. From the happy and fanciful vision that Chris Columbus presented us with about Hogwarts in his first two installments, to the darkest vision of Alfonso Cuarón in "The Prisoner of Azkaban".
The rest of the great Fantastic Beasts 3 The Secrets of Dumbledore premieres of HBO Max in April 2022
Doctor Strange in the Multiverse of Madness (May 6,2022)
Though Doctor Strange in the Multiverse of Madness' earliest trailer strongly implied that a Stephen Strange variant is going to be the movie's big bad, the Scarlet Witch's presence in the story and the way that WandaVision came to a close has also implied that Wanda Maximoff may have something to do with the multiverse shattering into a million pieces. While Multiverse of Madness' newest ad spot doesn't explicitly spell out how reality comes undone around Earth's magical heroes, it may explain why by confirming the return of two interesting characters.
Despite Wanda and Strange not having spent the most time on screen together up until this point, the new trailer establishes that the pair have quite a bit in common. For example, they both have recurring dreams of (what appear to be) other universes only to wake up in their home realities, which feel like nightmares. In contrast to Strange's night terrors that all seem to revolve around apocalyptic scenarios and his love for Christine Palmer, Wanda's dreams are haunted by visions of her twin sons Billy and Tommy, who still exist in other dimensions apparently. WandaVision's finale made it clear that, even though Wanda was forced to undo the magic that made her sons exist in that particular dimension, they were still out there somewhere in the multiverse and able to call to her.
The MCU's rules about whether people are meant to be mucking around in other realities haven't exactly been set in stone yet. It stands to reason, though, that a grieving witch trying to get her children back by stealing copies of them from other universes isn't the best idea. And it goes against the natural order in a way that might make some important people upset.
Doctor Strange in the Multiverse of Madness hits theaters on May 6.
Batgirl (April 5, 2022)
Leslie Grace stars as Barbara Gordon/Batgirl in this movie which is being made for HBO Max. J. K. Simmons, Brendan Fraser, Ivory Aquino, and Michael Keaton — yes, Batman himself — will co-star in the film.
Morbius (Jan 28,2022)
Morbius is an upcoming Science Fiction Superhero Horror American film based on the Marvel Comics character, Michael Morbius, and produced by Columbia Pictures in association with Marvel.
Sony has pushed back the release date for the Marvel film Morbius, starring Academy Award winner Jared Leto. While the Columbia Pictures title was previously scheduled to open on January 28, it will now hit theaters in IMAX and premium large formats on April 1.