Dri-fit Superhero Winter Soldier Compression Shirt Short Sleeve
Super Hero Series Compression T Shirt For Unisex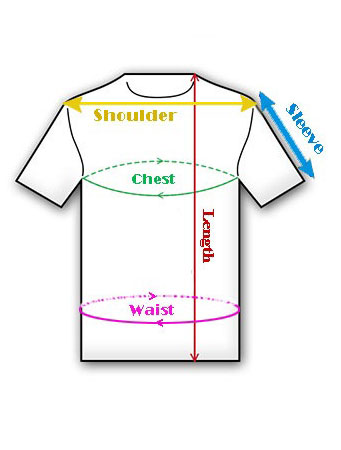 Measurement Tip 
Chest/Bust:
Take measurement up under the arms(1″ below armholes) and around chest
Waist:
Measure from Waist circumference (distance around the waist) at the narrowest point.
Shoulder:
With back of garment facing you, measure straight across from shoulder point to shoulder point at seam line (or natural fold) of shoulder.
Sleeve Length:
Measure from the top of armhole seam, down outside edge/fold to the bottom of the sleeve; Include cuff.
Length:High Point Shoulder (HPS) Back Length:
Measure from the back high point of shoulder seam (or from the natural shoulder fold) straight down to the bottom of garment, keeping the tape measure parallel to center back.
| Size | Chest(CM/INCH) | Length(CM/INCH) | Shoulder(CM/INCH) | Sleeve(CM/INCH) |
| --- | --- | --- | --- | --- |
| S | 83~90CM/32.7~35.4" | 60CM/23.6" | 39CM/15.4" | 16CM/6.3" |
| ,M | 86~96CM/33.8~37.8" | 61CM/24" | 40CM/15.7" | 17CM/6.7" |
| L | 89~105CM/35~41.3" | 62CM/24.4" | 41CM/16.1" | 18CM/7.1" |
| XL | 93~112CM/36.6~44.1" | 64CM/25.2" | 43CM/16.9" | 19CM/7.5" |
| 2XL | 96~118CM/37.8~46.5 | 66CM/26" | 45CM/17.7" | 20CM/7.9" |
| 3XL | 100~124CM/39.4~48.8" | 68CM/26.8" | 47CM/18.5" | 21CM/8.3" |
| 4XL | 104~130CM/40.9~51.2" | 70CM/27.6" | 49CM/19.3" | 22CM/8.7" |
Short Sleeve Winter Soldier Compression Shirt Inspired from a 2014 American superhero film based on the Marvel Comics character Captain America, When Bucky Barnes was introduced, he was one of the most beloved young sidekicks in comics. Batman had Robin, and Captain America had Bucky Barnes. Many fans might recognize Bucky as the Winter Soldier, the Russian super-weapon created using Captain America's friend, James Buchanan Barnes. Throughout Marvel Comics history, Bucky has been an important and popular character, even as a deadly assassin. He has led a life of crime, romance, danger, and heroics. From going up against his own family and friends to fighting communism and cheating death, Bucky has run the gambit of comic book plots. From teen hero to assassin extraordinaire, the Winter Soldier's life is full of secrets and mysteries. How well do you really know Bucky Barnes?go start with the Winter Soldier Costume.
PKAWAY® Compression Shirt Benefits:
Perfect for all body types
Moisture-wicking
Maintains body temperature on hot or cool days
Ideal for bodybuilding, soccer, running, cycling, or CrossFit
The special blend of spandex and polyester for enhanced elasticity
Whether your thing is running, gym, or something else, you may not be able to become a superhero, but you can certainly feel like one after you're finished wearing this unique short Sleeve winter soldier compression running shirt.
Compare