Black Red Spider Man Superhero Compression Shirt Long Sleeve
$30.00
Super Hero Long Sleeve Compression Shirt For Unisex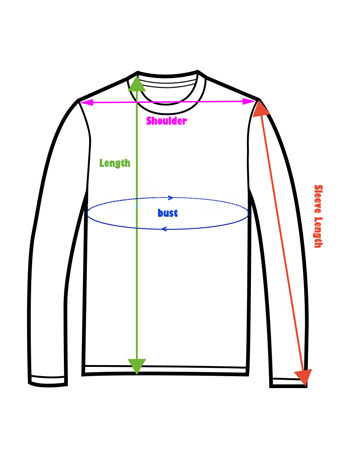 Measurement Tip 
Chest/Bust:
Take measurement up under the arms(1″ below armholes) and around chest
Waist:
Measure from Waist circumference (distance around the waist) at the narrowest point.
Shoulder:
With back of garment facing you, measure straight across from shoulder point to shoulder point at seam line (or natural fold) of shoulder.
Sleeve Length:
Measure from the top of armhole seam, down outside edge/fold to the bottom of the sleeve; Include cuff.
Length:High Point Shoulder (HPS) Back Length:
Measure from the back high point of shoulder seam (or from the natural shoulder fold) straight down to the bottom of garment, keeping the tape measure parallel to center back.
| Size | Bust(CM/INCH) | Length(CM/INCH) | Shoulder(CM/INCH) | Sleeve (CM/INCH) |
| --- | --- | --- | --- | --- |
| S | 83~90CM/32.7~35.4" | 60CM/23.6" | 39CM/15.4" | 58CM/22.8" |
| M | 96~96CM/33.8~37.8" | 61CM/24" | 40CM/15.7" | 60CM/23.6" |
| L | 89~105CM/33.8~37.8" | 62CM/24.4" | 41CM/16.1" | 62CM/24.4" |
| XL | 93~12CM/36.6~44.1" | 64CM/25.2" | 43CM/16.9" | 63CM/24.8" |
| 2XL | 96~118CM/37.8~46.5" | 66CM/26" | 45CM/17.7" | 64CM/25.2" |
| 3XL | 100~124CM/39.4~48.8" | 68CM/27.6" | 47CM/18.5" | 65CM/25.6" |
| 4XL | 104~130CM/40.9~51.2" | 70CM/27.6 | 49CM/19.3" | 66CM/26" |
>
Turns out a realistic Spider Man wrapped head to toe in spandex is not a good look for the hero,So you can take this Cool Red Spider Costume and Be your own super hero.Bitten by a radioactive spider, Peter Parker's arachnid abilities give him amazing powers he uses to help others, even while his personal life continues to offer plenty of obstacles.
These high-quality compression workout shirts were designed with a special blend of lycra, polyester, and spandex for a second-skin fit that hugs your muscles to optimize performance.
With proprietary moisture-wicking technology that keeps you cool and dry, you can focus on what matters in training and in life without having to worry about excessive sweating.
Each spider super hero shirt has been professionally 3D-printed so that colors don't fade and shirts don't shrink, so you can rock the hero look time and time again.
Go longer, go harder, go faster with premium printed superhero-themed compression workout gear from PKAWAY®.
Compare