Dri-fit Superhero Spiderman Compression Shirt Short Sleeve
$30.00
Super Hero Series Compression T Shirt For Unisex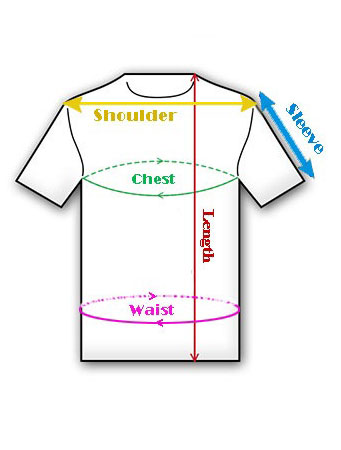 Measurement Tip 
Chest/Bust:
Take measurement up under the arms(1″ below armholes) and around chest
Waist:
Measure from Waist circumference (distance around the waist) at the narrowest point.
Shoulder:
With back of garment facing you, measure straight across from shoulder point to shoulder point at seam line (or natural fold) of shoulder.
Sleeve Length:
Measure from the top of armhole seam, down outside edge/fold to the bottom of the sleeve; Include cuff.
Length:High Point Shoulder (HPS) Back Length:
Measure from the back high point of shoulder seam (or from the natural shoulder fold) straight down to the bottom of garment, keeping the tape measure parallel to center back.
| Size | Chest(CM/INCH) | Length(CM/INCH) | Shoulder(CM/INCH) | Sleeve(CM/INCH) |
| --- | --- | --- | --- | --- |
| S | 83~90CM/32.7~35.4" | 60CM/23.6" | 39CM/15.4" | 16CM/6.3" |
| ,M | 86~96CM/33.8~37.8" | 61CM/24" | 40CM/15.7" | 17CM/6.7" |
| L | 89~105CM/35~41.3" | 62CM/24.4" | 41CM/16.1" | 18CM/7.1" |
| XL | 93~112CM/36.6~44.1" | 64CM/25.2" | 43CM/16.9" | 19CM/7.5" |
| 2XL | 96~118CM/37.8~46.5 | 66CM/26" | 45CM/17.7" | 20CM/7.9" |
| 3XL | 100~124CM/39.4~48.8" | 68CM/26.8" | 47CM/18.5" | 21CM/8.3" |
| 4XL | 104~130CM/40.9~51.2" | 70CM/27.6" | 49CM/19.3" | 22CM/8.7" |
>
Spider Compression Shirt based on their favorite Marvel heroes Costume,this supe hero character Spider Man is a fictional hero created by Marvel Comics,The bite from a radioactive spider granted Peter Parker amazing arachnid-like powers. After losing his beloved Uncle Ben to a burglar, grief- stricken Peter vowed to use his incredible abilities to protect his city as the Amazing Spider-Man. Peter's trials taught him an invaluable lesson: with great power, there must also come great responsibility.
US brand:PKAWAY®
Slim Fit,Dri Fit Super Hero Spider Man T Shirt
Quick dry compression top
It wicks sweat away from the body to prevent chafing and rashes
Keeps the muscles warm to prevent muscle strain
Whether your thing is running, gym or something else, you may not be able to become a superhero, but you can certainly feel like one after you're finished wearing this unique short sleeve Spiderman compression shirt.
Compare