Black And Red Superman Compression Shirt Short Sleeve
$30.00
Super Hero Series Compression T Shirt For Unisex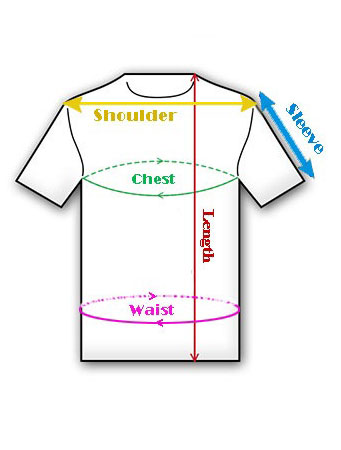 Measurement Tip 
Chest/Bust:
Take measurement up under the arms(1″ below armholes) and around chest
Waist:
Measure from Waist circumference (distance around the waist) at the narrowest point.
Shoulder:
With back of garment facing you, measure straight across from shoulder point to shoulder point at seam line (or natural fold) of shoulder.
Sleeve Length:
Measure from the top of armhole seam, down outside edge/fold to the bottom of the sleeve; Include cuff.
Length:High Point Shoulder (HPS) Back Length:
Measure from the back high point of shoulder seam (or from the natural shoulder fold) straight down to the bottom of garment, keeping the tape measure parallel to center back.
| Size | Chest(CM/INCH) | Length(CM/INCH) | Shoulder(CM/INCH) | Sleeve(CM/INCH) |
| --- | --- | --- | --- | --- |
| S | 83~90CM/32.7~35.4" | 60CM/23.6" | 39CM/15.4" | 16CM/6.3" |
| ,M | 86~96CM/33.8~37.8" | 61CM/24" | 40CM/15.7" | 17CM/6.7" |
| L | 89~105CM/35~41.3" | 62CM/24.4" | 41CM/16.1" | 18CM/7.1" |
| XL | 93~112CM/36.6~44.1" | 64CM/25.2" | 43CM/16.9" | 19CM/7.5" |
| 2XL | 96~118CM/37.8~46.5 | 66CM/26" | 45CM/17.7" | 20CM/7.9" |
| 3XL | 100~124CM/39.4~48.8" | 68CM/26.8" | 47CM/18.5" | 21CM/8.3" |
| 4XL | 104~130CM/40.9~51.2" | 70CM/27.6" | 49CM/19.3" | 22CM/8.7" |
>
Superman has many amazing powers, including his incredible kissing ability. Wait… what? Oh yes, that is only the beginning of the crazy storm you are about to see here. For some reason the Superman writers used to come up with all manner of weird and wonderful abilities for Superman, all of which you're never going to see in the comics again… hopefully. In the post-Crisis world, especially after the creation of the World Wide Web, the writers simply can't get away with including such outlandish abilities anymore. Instead they stick to the standard powers and this is better for the stories and for general continuity. So speed, flight, invulnerability, strength, superbreath and heat vision these you can expect from Superman these days without any mention of his uncanny knitting ability. So sit back and take a look as we run through 20 occasions when the writers have gifted Superman with a bonus ability,none of which make particular sense.
Brand:PKAWAY®
87% Polyester, 13% Spandex Workout tights – Smooth and Ultra-Soft Fabric that provides extreme comfort with very little weight without restriction
This Compression pants,workout gear good for both women and Men. Designed for all seasons and all fitness exercise (workouts,training, baseball, basketball, soccer, American football, NFL, Squat, weight training, cycle, surfing, yoga, all weather sports)
Non abrasion fabric material with excellent elasticity and durability, UV BLOCKING 98.8%
Moisture Sensing/Quick time Dry/TWO-WAY Air Circulation, Heat retention in Winter and Cool in Summer, Thermal Winter gear
Quick and Dry Transport System – Wicks Sweat away from the body, keeping you cooler and drier
Compare